NSP & laws firm is the legal service company for the foreigners who wish to work, operate business, or any legal matter in Samui or through Thailand.
NSP & laws firm first established by Mr. Surin Puangpakdee, the owner and the senior lawyer of the company who has been a specialised in legal counsel for over 15 years and registered in the Civil and Commercial Code to be a juristic person in the type of company limited since 2006. The office is located on Koh Samui, Suratthani province.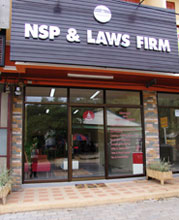 NSP & laws firm realised of the difficulties of the foreigners who prefer to set up business in Thailand, which included the difficulties in language, rules and regulations, or documentation. So the company serves in giving advice about laws, establish a company, applying for WORK PERMIT and VISA, and also account service.
At the beginning, NSP & laws firm had some lawyers but working honestly and on time to the clients had help the company gain good credit lately
After our official grand opening, the company's business had grown rapidly. The company started to set more principles by increasing new services to support the clients' demand especially the foreigners who had moved into Samui or through Thailand both temporarily and permanently.
NSP & laws firm desires to serve everybody and will enhance potentiality of the company as one of a leading international law firms in Koh Samui, Suratthani.